Robin
Office Manager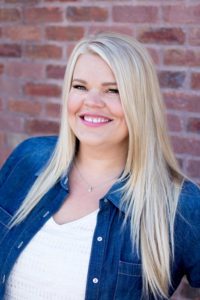 Meet Our amazing administrative wizard behind the day-to-day operations of Elkins Dental! As our office Manager, Robin has been a crucial part of the team since she started with us, and we're happy to call her our own.
Robin and her husband, Ben, grew up only a few miles apart. They made friends with the same people, and loved the same things, but they didn't meet until they were all grown up! Once they found each other though, there was no going back. Ben and Robin fell in love and soon they were married and proud parents of their precious little girl, Ava.
Fast forward several years, and the trio has moved out of their hometown in southeastern Idaho to the foothills of the Treasure Valley. With Ben at Boise State University studying engineering, and Ava growing into quite the artist, Robin couldn't be prouder of her family. Ben especially keeps them moving ever onward and upward! "He always wants us to outdo ourselves", Robin says. "We keep each other motivated towards our goals, and he keeps me grounded"
It was in Boise that Robin discovered her love for dentistry, and in 2008 she found herself working as a dental assistant alongside Dr. Elkins at a clinic in Boise. Robin loves working in dentistry, and is particularly proud to work with Dr. Elkins. Their excellence and love of laughter make work a family not a job, so after Dr. Elkins left to open Elkins Dental, Robin spent a little extra time studying up on insurance, billings and management.
Sydney
Assistant Office Manager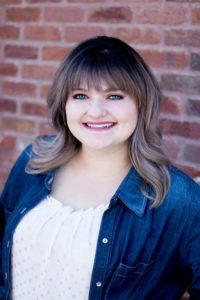 Meet Sydney our hostess! We're so grateful Sydney found us. With her sweet personality and quick smile, she's the perfect fit in our Elkins Dental family. And Sydney enjoys being here too! Her favorite thing about working here is "seeing the smiles on people's faces and knowing that we made their day a bit brighter."
Family is an important part of Sydney's life. Right now, her family consists of her loving husband, Matthew, an adventurous daughter named Harley, and three poodles: Goliath, Samson, and Moses. Matthew, who currently works as a pharmacy tech at the local Bi-Mart, hopes to eventually go back to school at Idaho State University's campus in Meridian to be a pharmacist.
Though work keeps Sydney and Matthew busy, they try to spend every weekend together with Harley, having family adventures! And Harley is one adventurous little tyke. During the summer, the family loves to swim. "She is crazy," Sydney says. "She's not afraid of anything. When we go to swimming lessons, she immediately jumps in the deep end. At home, she'll climb the back of the couch, holler 'Mom, look!', then jump off!" Harley also enjoys riding in her stroller on walks, and she always insists on taking her dogs. "She keeps me on my toes," Sydnee says, "and I'm pretty sure I'll have gray hairs soon."
In her spare time, Sydney loves to take pictures. Her favorite photography subject is people. "I especially love family portraits and newborn photo shoots," she says. "It's fun to capture the memory of that special moment for people!"
Caryn
Hygienist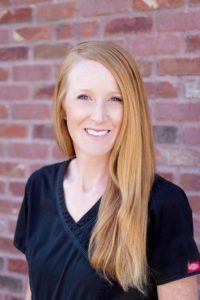 Meet Caryn, our lovely Dental Hygienist!
Originally from Horseshoe Bend, Caryn is an outdoorsy gal who can usually be found traversing the terrain on a snowboard at Tamarack resort, or rafting and fishing the awesome rivers of Idaho with her boyfriend, Shane. She also loves to travel to faraway places – before Caryn started at Elkins Dental, she spent three months exploring Chile with Shane!
When Caryn isn't exploring, she enjoys doing hands-on activities like scrapbooking and crafts, and has recently taken up knitting lessons from her mom! Whatever Caryn and Shane are doing, they are usually accompanied by their dogs: an English Pointer, Boof and a Golden Retriever, Lucy. When Caryn isn't looking for fresh powder and gurgling rapids, she is working on your pearly whites.
When Caryn was younger she had some orthodontic work. She was fascinated by the process and loved seeing the amazing results afterward. She went to Eastern Oregon University for general education and then headed to dental assisting school and went right through to get her dental hygienist license. Caryn believes Elkins Dental offers a great atmosphere with lots of positive vibes that make coming to work each day fun!
She also loves the fact that Elkins dental allows employees to educate their patients about oral health. She sees people come in not knowing how to improve their mouths, and she loves being able to give them methods and tools they can use that they never knew about. For Caryn, seeing these patients come back with improved oral health and beautiful smiles is what its all about- so smile big when you come in for your next visit and say hello to Caryn!
Jessika
Dental Assistant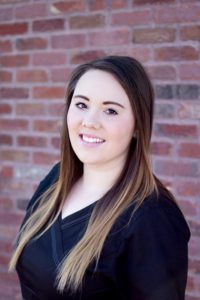 Meet Jessika, our fantastic hygiene assistant! Jessika managed to put herself through a dental and hygiene assistant course while working at Community Partnerships, an organization created to help individuals with disabilities. She even worked night shifts while she finished up her dental externship at Elkins Dental.
Jessika is way ahead of the curve, so it's no surprise that when she walked into our office last September with her resume, Robin hired her then and there. She and her boyfriend already purchased their first home in Emmett! At the moment, they're working on remodeling. Fortunately, Jessika's dad was in construction, so they've got plenty of help. They're in the process of putting in hardwood and doing some much-needed painting. The home's last owners had some unusual color preferences!
Jessika loves fast cars, shopping, and all things glitter. She owns glitter Ugg boots, glitter perfume, and even the screen protector on her phone is flecked with tiny specks of shimmery glitter. When she's not working, shopping, or remodeling her home, Jessika heads to the hills to dirt bike. On the weekends, they cruise around downtown Boise with other local sports car enthusiasts.
Jessika has told us how much she appreciates Elkins Dental, but really, we're just as grateful for her hard work, competence, and fun personality.


Jessica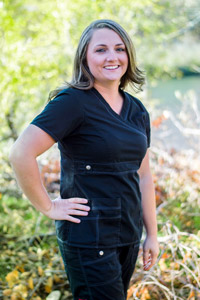 Meet Jessica! Jessica knows that almost all our patients come in with a little bit of anxiety — sometimes more than a little bit! But she's a master at putting them at ease. "I love making people smile," she says. "I really got out of my shell after high school, and I use my sense of humor to break the ice with new people — and to make patients more comfortable in the office."
Usually quiet, Jessica's sense of humor comes out as you get to know her, and we love having her in the office. Jessica grew up in Emmett. "I was born and raised here, but left for a few years to Twin Falls," she says. She's put in her time at several different dental practices, starting with a stint in an endodontics office and moving on to an oral surgery practice. "But," she says, "Emmett just keeps bringing me back. It's a good valley to live in." Jessica's love of dentistry was founded young. "I got a lot of dental work done as a child, and I had a nice, easygoing dental assistant who made things so much better."
Impressed by the assistant's demeanor — and fascinated by the human mouth and its workings — Jessica knew she wanted to pursue a career in the field. And when she's not working? "I love spending time with family. We're pretty close," she says. Jessica also loves being outdoors with her horses or her red heeler, Spot. She's trying to convince her boyfriend that they need a dachshund as well. If you don't see her in the office, you might run into her in the great outdoors — fishing, hunting, or just enjoying the scenery!
Kalie
Dental Hygienist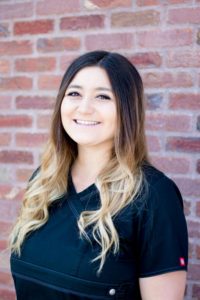 Chelsey
Hostess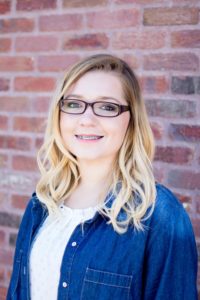 Heather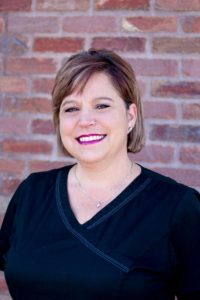 Erica
Insurance Coordinator